Snaxshot #04: Seasoned Greetings
What's in your pantry?
A newsletter on upcoming food and beverage trends that offers a curation of brands and aesthetics written by Andrea Hernández.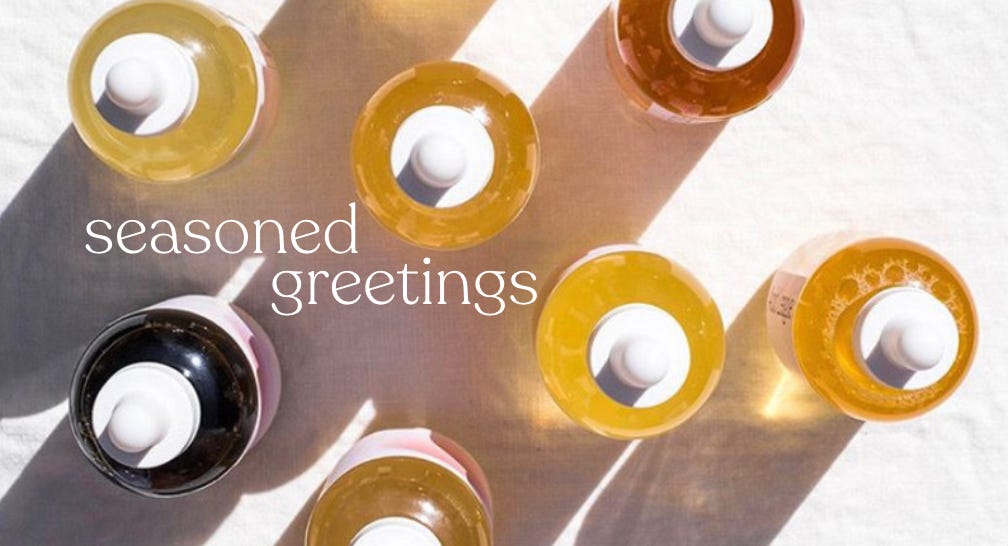 🔮 Peek into the future:
Millennials move on from seasoned sauces.

Snaxshot of market + who's making moves.

An ode to the brilliance of Sir Kensington's success.

Favorite brands in the space.

Market challenges + opportunities.

Don't be shy, the water's warm, don't forget to hit the subscribe button below.
On Seasoned Sauces 🍂
Way back in 1997, Spice Girls preached the message— "Spice Up Your Life" and by the year 2000, Heinz gave us what no one had asked for, the EZ Squirt Purple Ketchup, marketed as an innovative approach to their over 100-year-old bottled product, only to be quickly retired.
Though some condiments have proven to be universal and unwavering, as millennials grew up, not only have they expanded their taste horizons, but this generation began to clean up the pantry, demanding cleaner products that posed a challenge for legacy brands whilst offering an opportunity to disrupt an entire industry.
In the US, the market for condiments can range from the familiar to the foreign to the fantastic (hello sliced Ketchup?!) Condiments have gone from being on the side (literally) to being aforethought as we plan our meals.
—In the US alone, the condiments market is estimated to surpass $37.7 billion by 2023 growing at a CAGR of more than 4.9% during 2018 to 2023.

—Around the world, the market size is projected to reach $55.31 billion by 2027 with a CAGR of 3.3%.

—Market size of the condiment industry in US has grown 1.8% per year on average between 2015 and 2020.

—From 2012 to 2016, 9,617 sauce, dressing and condiment products were launched in the United States, most of which were new product launches, variety and range extensions.

—Dips are the category expected to expand at the fastest CAGR of 5.3% from 2019 to 2025.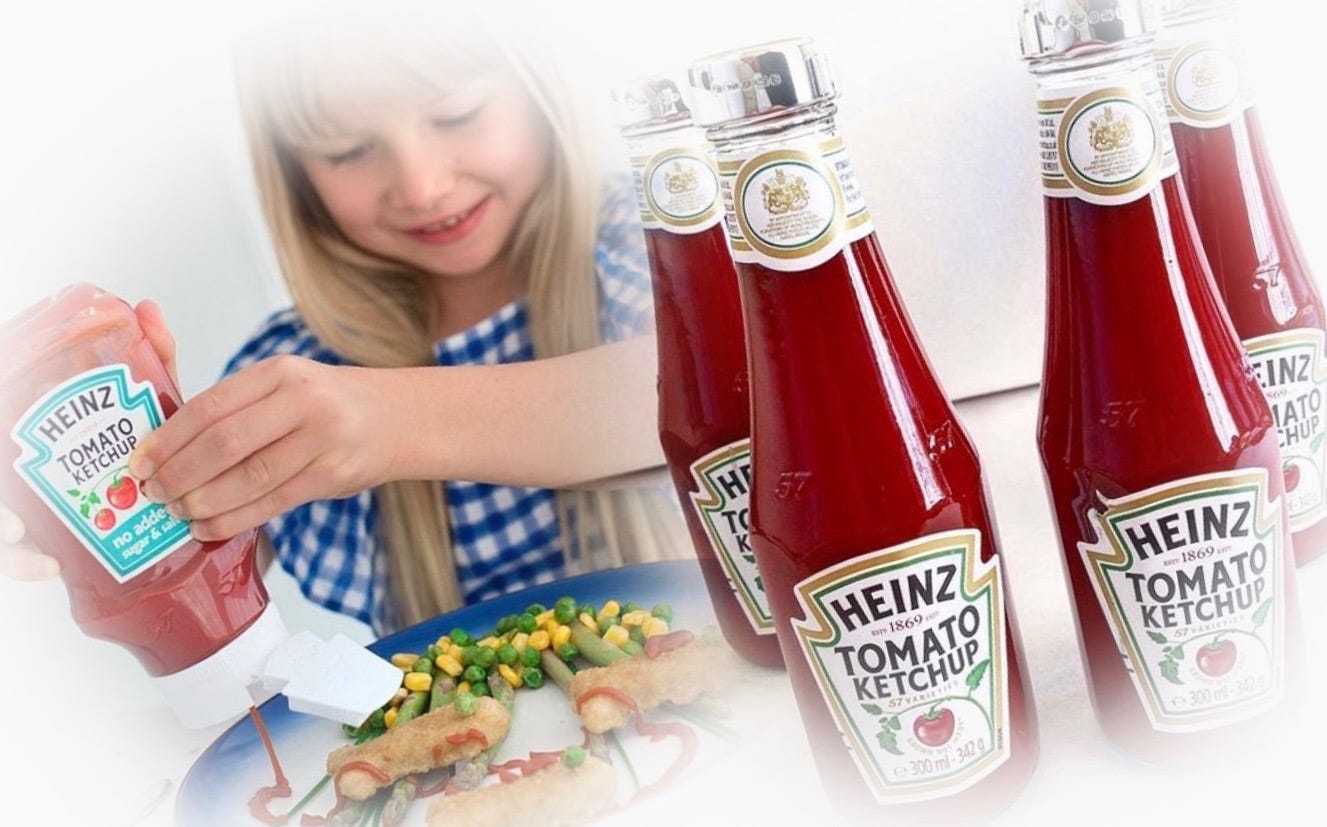 Bullish on BigFood™? 🥪
BigFood™ has experienced moderate growth in recent years as consumers seek newer flavors and healthier ingredient combinations. As the pandemic hit, legacy brands began to embrace a different kind of approach, and for some, their sales numbers have outperformed expectations while others are struggling to stay in par with new consumer trends.
Here's what BigFood™ is up to:
—Unilever's food unit, which contributes 40% to total sales, has underperformed the company's two other divisions, particularly as their legacy condiments have fallen out of favor with shoppers in search of niche brands and healthier options. (They've switched internal leadership of foods category twice in the last two years!)

—On their earnings call in February 2020, Kraft Heinz announced a plan to increase media spend by 30% to boost sales of core products as they compete with white label grocery brands. 

Back in May they launched their first-ever DTC business, "Heinz To Home," (H2H) warehouse club-sized packages of their pantry staples in the UK. Most recently they have launched a subscription service aimed towards students returning to college in the UK.

Their new strategy consists of a reorganization of their brand portfolio into six consumer platforms, including Taste Elevation, Easy Meals Made Better, Real Food Snacking, Fast Fresh Meals, Easy Indulgent Desserts and Flavorful Hydration.

According to Kraft Heinz's CEO:

"We have moved from viewing our business through the lens of more than 55 separate categories to managing a portfolio of six consumer-driven platforms that are based on how consumers live their lives and how they eat today"

—PepsiCo launched two new websites as they entered the DTC space:  PantryShop.com and Snacks.com. Sales nearly doubled during Q3.

—McCormick reported sales of $1.43 billion, topping Wall Street expectations. Third-quarter sales were up 8% compared with the same period last year, a reflection of the initial wave of stay-at-home orders that swept the U.S. Their stock remains up more than 60% since pandemic began.

—Del Monte has launched e-commerce, same-day delivery, in Dallas.

—The three companies that made up 24.4% of this sector's sales in 2019 were Kraft Heinz Co, McCormick & Co Inc, and Campbell Soup Co.
From New Kid's On the Block to Big Dills
🥒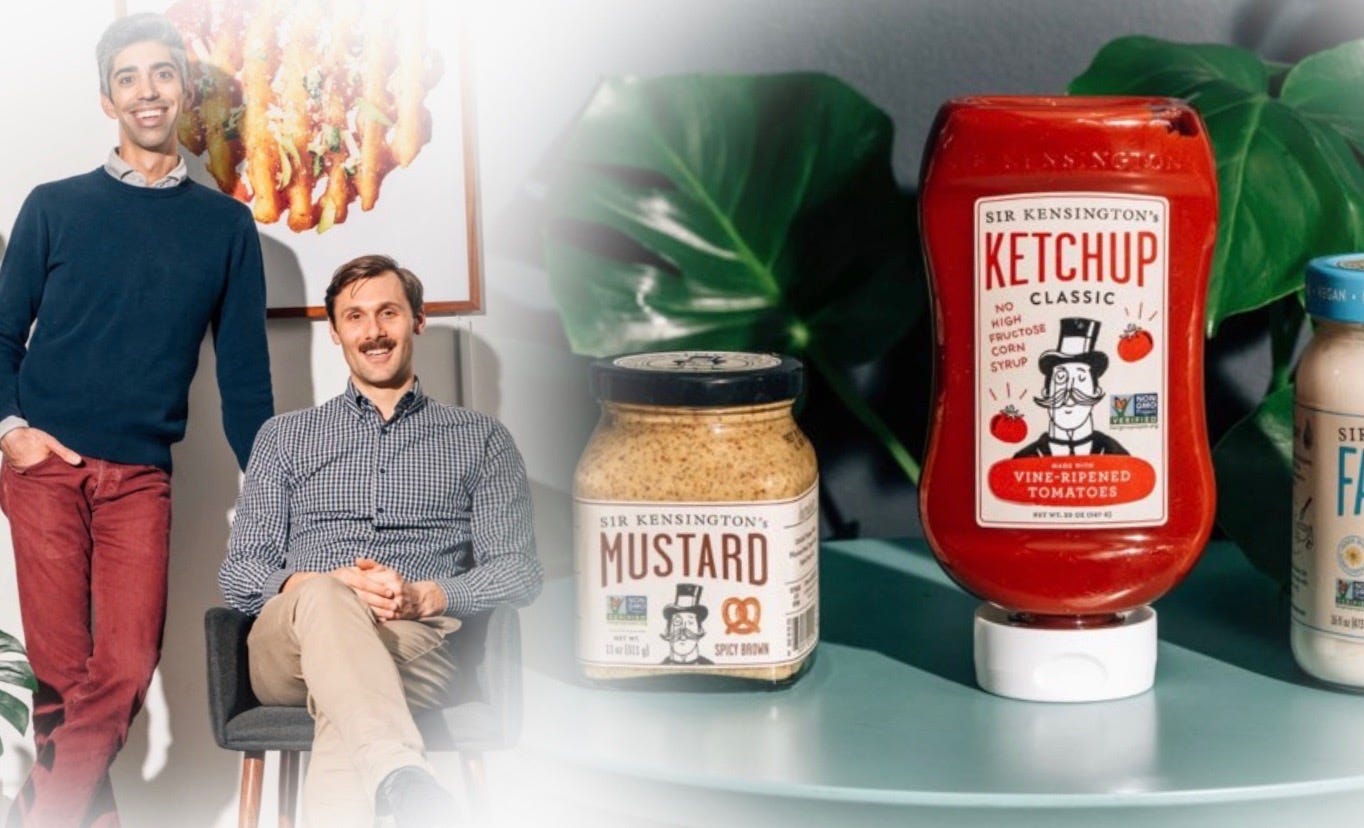 Smaller players have taken advantage of new consumer behaviors that have allowed their businesses to claim market share in a space that was in much need of disruption—enter Sir Kensington. Established by founders Scott Norton and Matt Ramadan, they were the first small brand to take on BigFood™ in a space taken for granted through the decades, in a very David vs. Goliath-esque fashion.
They developed an alternative to common condiments, their first product, ketchup, took them two years to develop, it featured less sugar and salt than standard ketchup as well as no high fructose corn syrup. By their first year, the company had sales of $40,000 and was found in outlets such as Dean & Deluca and Williams Sonoma. They produce mayonnaise, ketchup, and mustard, as well as the introduction to "Fabanaise" a vegan mayo featuring aquafaba.
Their success led them to being courted and acquired by Unilever back in 2017, reportedly for around $140 million. Sir Kensington has become the top condiment brand at Whole Foods, it's replaced Heinz in in-flight meals on United Airlines, American and is available at chic, 'grammable spots like Ritz Carlton and at millennial darling dine spots like Sweetgreen.
They continue to innovate by creating with intention, committing to have 100% recycled content in its packaging by 2022 as well as continue to expand their plant-based offerings. In a time where BigFood™ is struggling to adapt, acquisitions like these can be the saving grace for Unilever and the likes.
New Brands We Relish 🌭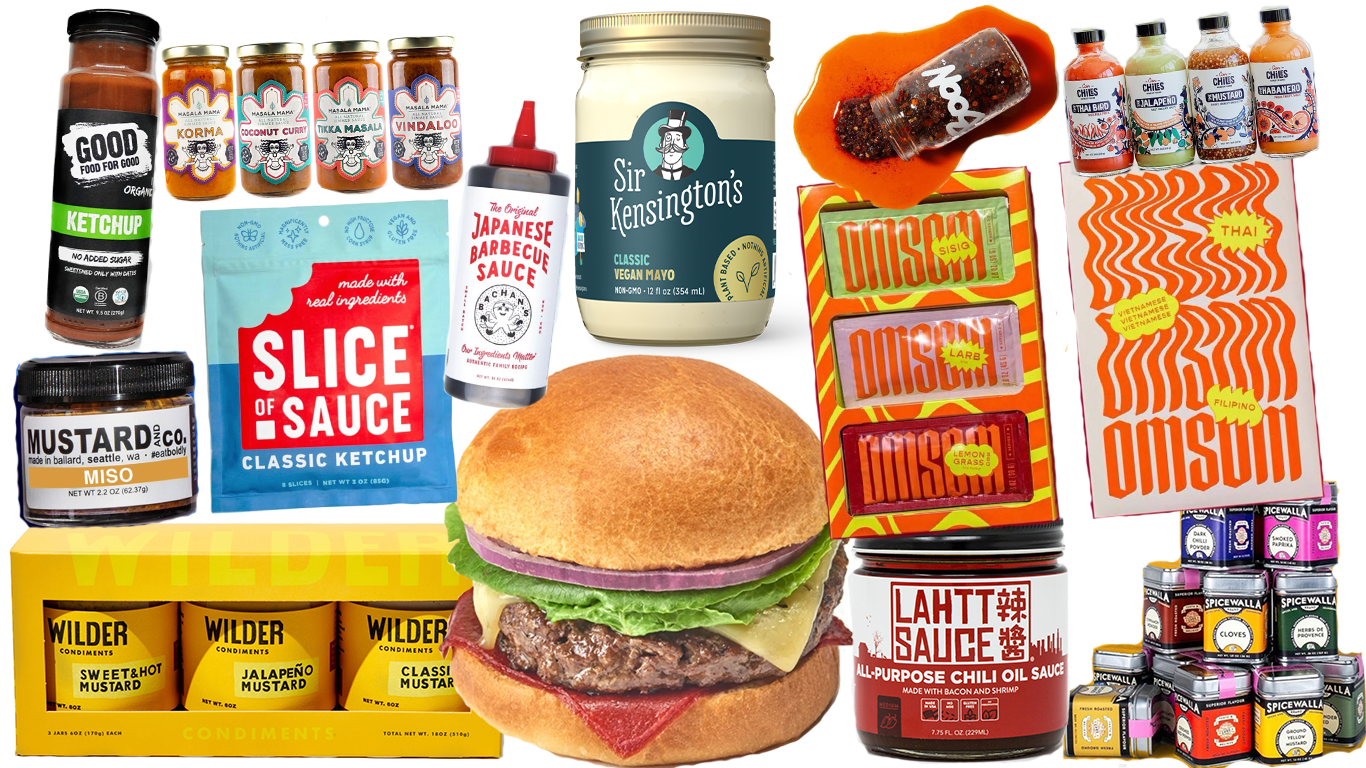 Spicewalla: Chef-driven, small-batch, fresh roasted & ground spices from Asheville, NC, created by Chef Meherwan Irani.
Boon: An L.A. based small batch chili oil created by Max Boonthanakit. Inspired by his love for the traditional Chinese chili crisp, Boon is a reflection of his Thai/Chinese upbringing and culinary experience.
Bachans: Based Californa, a family recipe turned into a business by founder Justin Gill, it's an umami–filled, teriyaki-ish, Japanese BBQ sauce. What makes them unique is that they're cold-filled, which means it isn't heated in hight temperatures during production before bottling, that in turn means that they don't have to resort to artificial or "natural" flavoring to account for the flavor loss that happens when the product is pasteurized.
Mustard and Co.: Based in Seattle, co-founders Justin and Bryan created a mustard traditional techniques to develop a process that ensures the mustard seed is never subjected to heat that in turn preserve its spicy oils. 
Mesa de Vida: From Chef Kirsten Helle Sandoval, it's a woman-owned small business that specializes on global-inspired gourmet sauces.
Slice of Sauce: Changing the condiments game a we know it, condiments that come in a convenient slice, without the mess! This slice of sauce promises a less soggy experience.
Diaspora Co.: An equitable vision of the space trade, founder, Sana Javeri Kadri is reinventing the spice industry with a farm-to-phone approach, it has seen a tenfold increase in sales of their spices online, 80% of which are made from a mobile device.
OmSom: Founded in 2018, they are Southeast Asian starters that come in packages that serve 2-3 people, recipes are provided. Reportedly have raised $1 million via Unpopular Ventures.
Wilder: Based in California, founded by Chef Isabel Freed, Wilder mustards have no additives, artificial flavors, or preservatives.
Dripping in Gold
🌟
—Olive oil market size is forecast to reach $4.79 Billion by 2025, growing at a CAGR of 2.93%

—Of the $2 billion olive oil market in the USA, $73 million is generated from local production.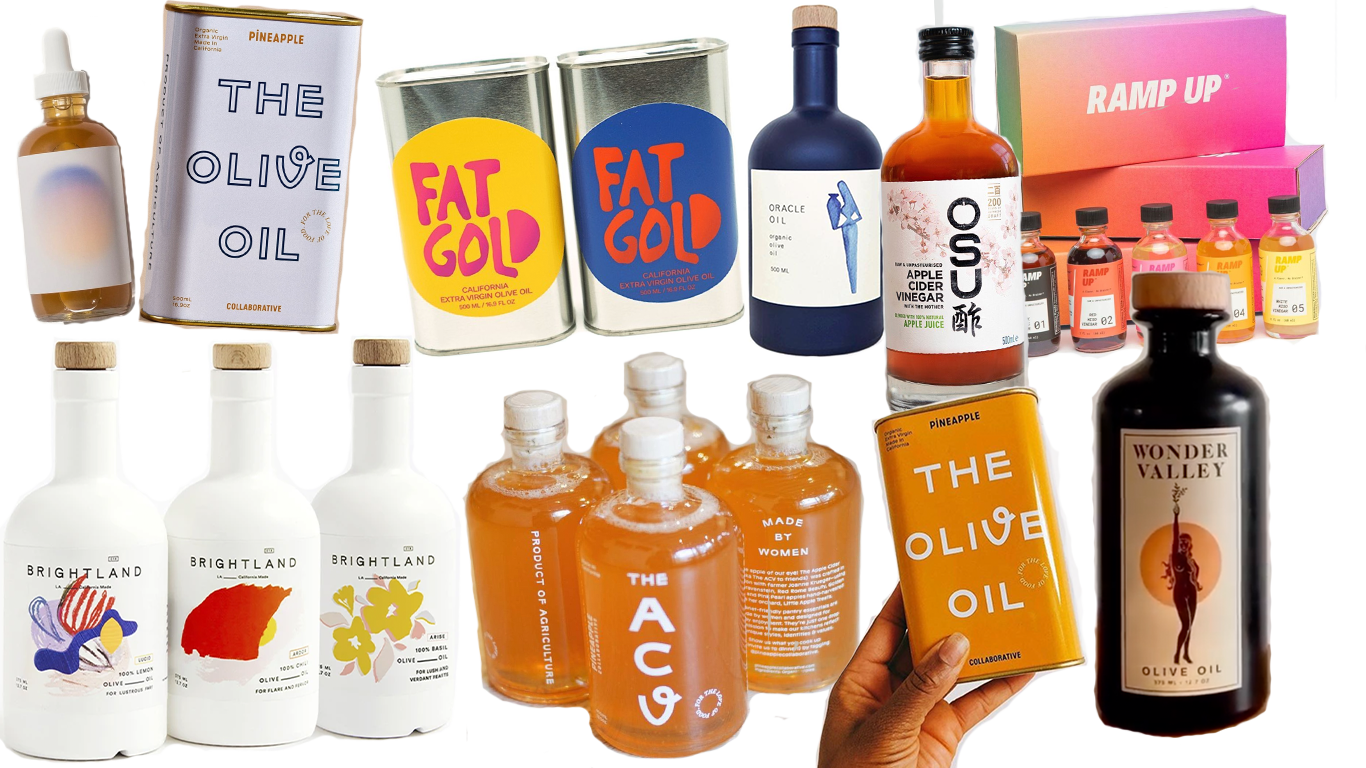 Brightland Co: From founder, Aishwarya Iyer, they offer authentic olive oils and vinegars that are never rotten, over-processed, or fraudulent. (This is something I resonate with so much because brands can sometimes get away with this by making food labels confusing!) They source their olives from a family-run California farm, then craft them into custom-blended oils, their brilliant branding launched the "apothecary" aesthetic amongst other olive oil brands! They've raised an undisclosed amount, pre-seed round from NaHCO3.
Ramp Up: From founders Johnathon Garvey and Samantha Hannaford, the company is based in NYC, these vinegars are hand crafted using fermented ingredients to create unique flavor combinations not used in traditional vinegars.
Pineapple Collective: Founders Ariel Pasternak and Atara Bernstein, the company prides itself in supporting women in the food industry, they partnered with olive oil maker Kathryn Tomajan to offer a product made from organic olives grown in California.
Acid League: Toronto based, they've developed a proprietary process that produces complex, concentrated, "living" vinegars that are raw, unfiltered, and fermented with premium fruits, vegetables, herbs, and spices.
ILA: Based in Brooklyn, they source their olive oil from a 100-year old mill situated among the ancient groves of Andalusia, Spain. One of my favorite bottles that doesn't subscribe to the "apothecary look" that's been trending.
Mr. Pete's: Made in small batches straight from their family grove in Petrina, Laconia, where the olives are harvested by hand every year to produce 100% Greek olive oil. Named after their deceased father, Mr. Pete's branding is another one that stands out to me, mostly because of their red accents.
Fat Gold: Based in California, the founders Kathryn Tomajan and Robin Sloan started by farming a tiny olive grove of their own and through their company they are trying to educate consumers about the nuances of olive oil.
Oracle Oil: Based in Brooklyn, made with unique olives that have a low acidity of 0.27% and "an unusually high concentration of anti-inflammatory phenolic compounds"—their label and identity was designed by artist Alejandro Cardenas, they nailed their aesthetics, their social takes you to Greece, and the beautiful, blue apothecary bottle is chef's kiss.
Wonder Valley: Based in Joshua Tree, they produce an extra virgin California olive oil, that contains a herbaceous, peppery flavor. The branding is phenomenal, the design of the bottle itself as well as the "luxe desert" aesthetics make this one of my favorite's in terms of overall "look" —check out their website, turn your volume on.
Hot Stuff Baby 🌶️

Sage Advice
Competitive advantages in this industry include a semi fragmented industry, though the majority of sales $ come from legacy brands, their growth has actually stagnated while smaller, niche brands are able to take more of their market share.

Another competitive advantage of up-and-coming brands is the DTC approach, whereas legacy brands have their largest distribution channels offline, smaller brands can avoid a highly competitive shelf space this way while still delivering products into consumers' hands.

McCormick's CEO believes home cooking is here to stay as the pandemic has instilled home cooking habits changed for the time being both new and legacy brands can benefit from doing subscriptions. (Like Heinz)
Too Hot to Handle? 🔥
Less production capability for olive oil as demand rises, restricted growth, and the variation of prices make olives vulnerable to price sensitivity. (More of a premium item.)

For smaller brands, it can be a challenge as legacy brands are quickly switching to DTC route, (Heinz to Home) with more time, money, and data that will allow them to penetrate more niche markets that smaller brands have been able to dominate.
Better Than Takeout 🥡
Pain point: After being indoors for almost half a year, people want to recreate dining experiences in their homes, they are trying to build out the same restaurant feeling in their dining rooms, using table decor, and what is known as "tablescapes" that apart from kitchens, have now become the latest status symbol of 2020. Signaling has gone indoors and focus is all around how home experiences can be improved.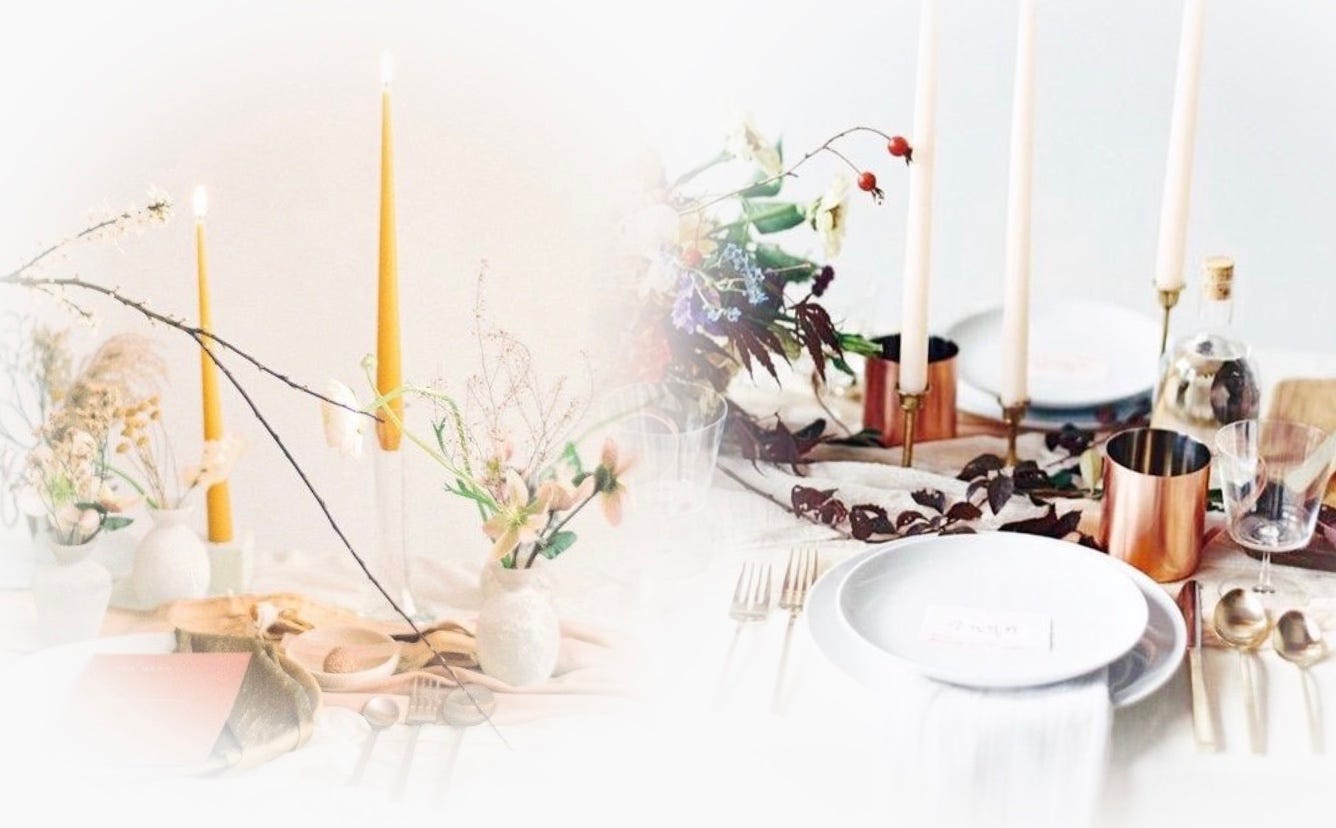 Selling bundled "tablescapes": Removes the friction/time of having to individually build this out by buying separate items. As fall/winter months approach and since people are looking to recreate a "feeling" these could be bundled by themes (and in some cases in partnerships with iconic restaurants?) as well as having holiday-related themed ones that are just easy to put together as well as store when it's time to switch the tablescape up.
Spoonful of News
🥄
TheRegular.com launched as a more modern alternative Bon Appetit. Their aesthetics are a combination of Repeller x Coveteur.

Emily Schmidt's PopUp Grocer is now open in Williamsburg.

Pattern Brands introduced Equal Parts' new cooking sets.
See you again next week, a different future, same place.
🔮 Tweet at me @thesnaxshot.
🔮 Share with your friends and let them know forecasting trends is the new astrology: